Our team has been providing high-quality exterior house washing in Chesapeake, VA for many years. When you call us, we offer a free estimate on what it would take to clean your home! We have a team of professionals who are committed to restoring your property by providing quality services that will make it look brand new. We specialize in all types of exterior surfaces including siding, roofs, walkways, gutters, patios, and decks. Give us a call today!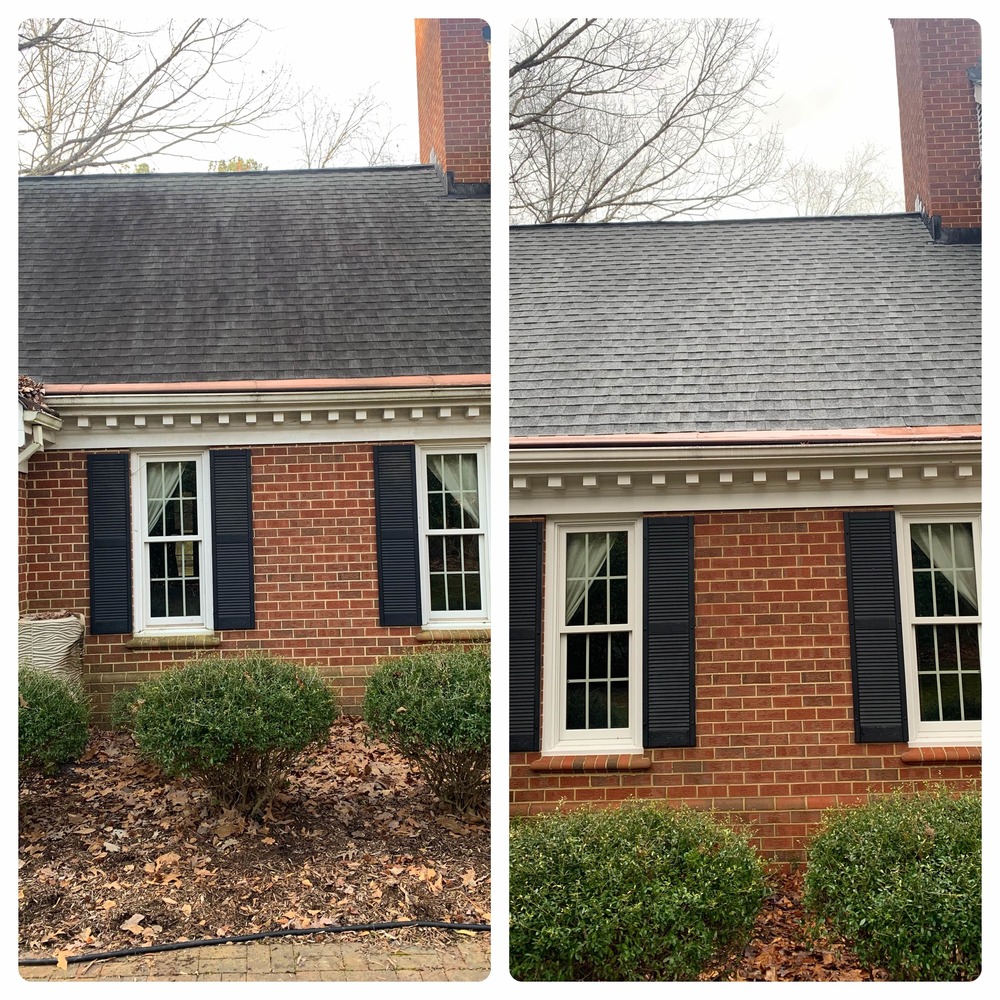 100% Customer Satisfaction Guarantee!
Increases Curb Appeal
High-Quality Services
Improves Life Expectancy of Your Home
Excellent Customer Service
Call For a Free Quote on Any of Our Services!
(757) 207-3737
Benefits of an Exterior House Wash in Chesapeake, Virginia
You might be wondering if this service is for you. We're confident that a good house wash brings many benefits! Here are just a few.
Saves Money
If you own an older home, you might be thinking about getting a new roof or replacing your siding. But are those expensive projects really necessary? Maybe not. Our soft washing technique can remove years of dirt and buildup on the exterior surfaces of your property. Call us today so we can evaluate the needs of your home!
Lasts Longer
As a responsible homeowner, you're dedicated to maintaining the cleanliness of your property. Why? Because you know that a good maintenance program is the key to making your house last as long as possible. It makes you less likely to be surprised by an expensive repair down the road. And that gives you peace of mind.
Increases Curb Appeal
Do you want to improve curb appeal, increase real estate value, or just come home every day to a house that looks brand new? This service will accomplish all of those things.
Why Hire a Professional?
Hiring a professional is a must if you want your home to look it's absolute best. You might think cleaning up your property is a simple task, but it can be quite complicated. Believe it or not, you have to know how to use the correct chemicals and equipment. And even then, serious issues could arise which would require more than just gear–you also need experience!
I've seen some people try to tackle pressure washing on their own. And it almost never ends well. Some use the same level of pressure to clean everything. But that damages the more delicate surfaces of their property. Many get injured trying to use a pressure washer while on a ladder. Chesapeake Brothers have a team of professionals with the know-how to clean your property safely and thoroughly, without damaging any surfaces. Give us a call today for a FREE estimate!
Areas We Serve
Chesapeake
Portsmouth
Norfolk
Virginia Beach
Suffolk
And More!
What Do We Clean?
Roof
Concrete
Siding
Driveways
Walkways
Decks
Commercial Property
Soft Washing
Power Washing
And More!
Call For a Free Quote on Any of Our Services!
(757) 207-3737
Home »