Roofs are a vital part of any building. They protect the interior from bad weather, and they also keep the rain off your head! If you're in need of roof cleaning in Chesapeake VA, it's important to hire a company that will do the job right. That's us! Call Chesapeake Brothers Power Washing today.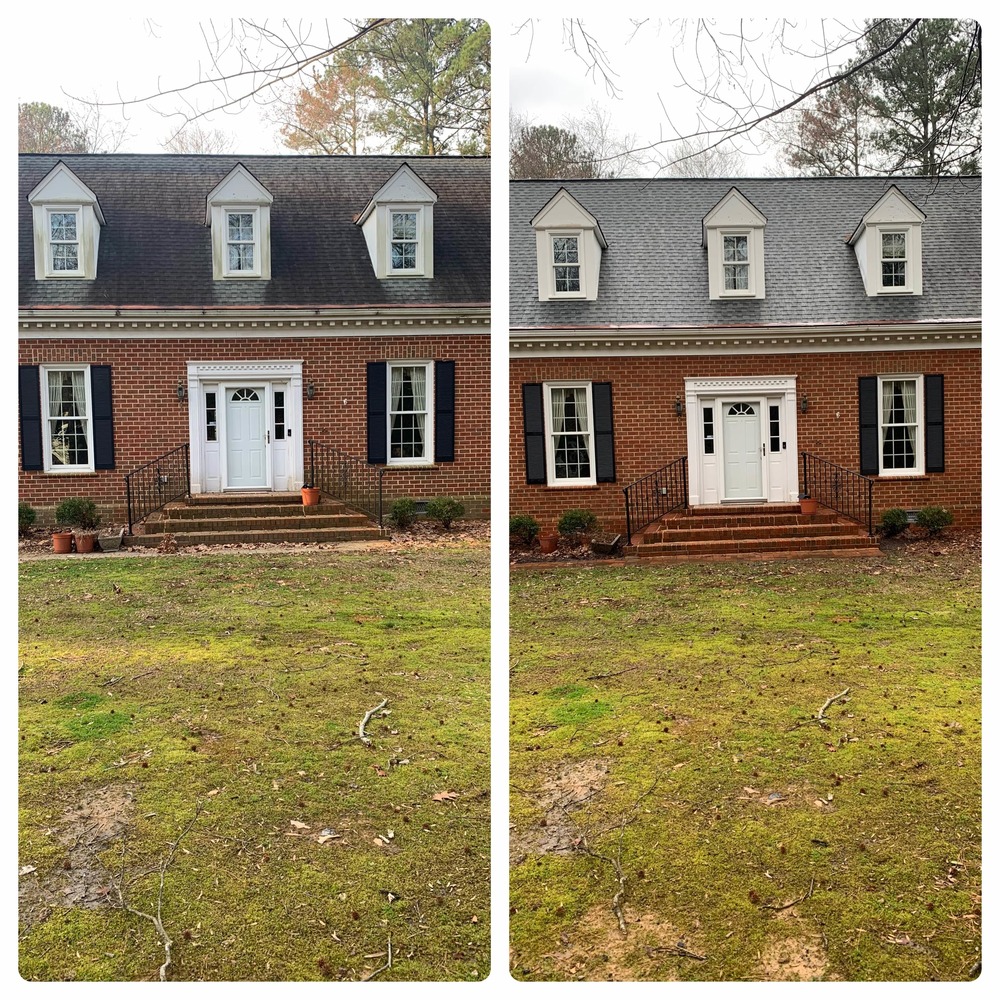 100% Customer Satisfaction Guarantee!
Increases Curb Appeal
High-Quality Services
Improves Life Expectancy of Your Home
Excellent Customer Service
Call For a Free Quote on Any of Our Services!
(757) 207-3737
Benefits of Rooftop Cleaning in Chesapeake, Virginia
Most of us don't spend a lot of time thinking about our roofs. But if you haven't thought about yours in a while, it might be time for a little TLC. Here's why.
Increased Curb Appeal
Clean shingles and tidy gutters make your whole property look better. That means you and your neighbors will be happier because you'll all be proud of where you live.
Saves Money
This service prevents damage, saving you money on expensive repairs later. Plus, if you're looking to sell your property, it'll help increase the real estate value.
Prevents Damage
Mold and mildew like to grow on the surface of a dirty rooftop. Don't let these sneaky pests hurt your health or bring down your property value. Keep them under control with this excellent cleaning service from us!
Our Roof Washing Process
The process is simple and thorough, with every part of your roof getting the extra special attention it deserves.
First, we apply an environmentally friendly cleaning solution to your shingles. Next, we gently rinse off the surface with a nice low-pressure stream of water. Throughout this process, we'll look for any roofing issues big or small, and bring them to your attention so you can address them as soon as possible.
Why Hire a Professional?
You might think that you can do this job just fine on your own. That's a great idea in theory, but there are some drawbacks to it in practice.
For example, if your roof has a steep pitch, it could be dangerous for you to climb up there without the proper equipment and training. You might slip and fall off. Or you could accidentally damage your roofing material and other parts of your home while you're up there.
Hire an expert to make the job easier, faster, and safer for everyone involved. They'll have all the tools they need to get the job done right. In addition, they may spot small or large issues that you might not have otherwise seen. They'll let you know about these problems to give you the opportunity to address them before they get worse.
If your shingles are covered in dirt and debris, it's time for a wash! Call Chesapeake Brothers Power Washing today!
Areas We Serve
Chesapeake
Portsmouth
Norfolk
Virginia Beach
Suffolk
And More!
What Do We Clean?
Concrete
Siding
Driveways
Gutter Cleaning
Decks
Commercial Property
Soft Washing
Power Washing
And More!
Call For a Free Quote on Any of Our Services!
(757) 207-3737
Home »