A lot of homeowners believe that the higher the pressure, the cleaner the home. Is that true? Definitely not. High-powered water streams can damage your delicate shingles, sidings, gutters, and more. What's the solution? Our team is proud to provide the best soft washing service in Chesapeake, Virginia.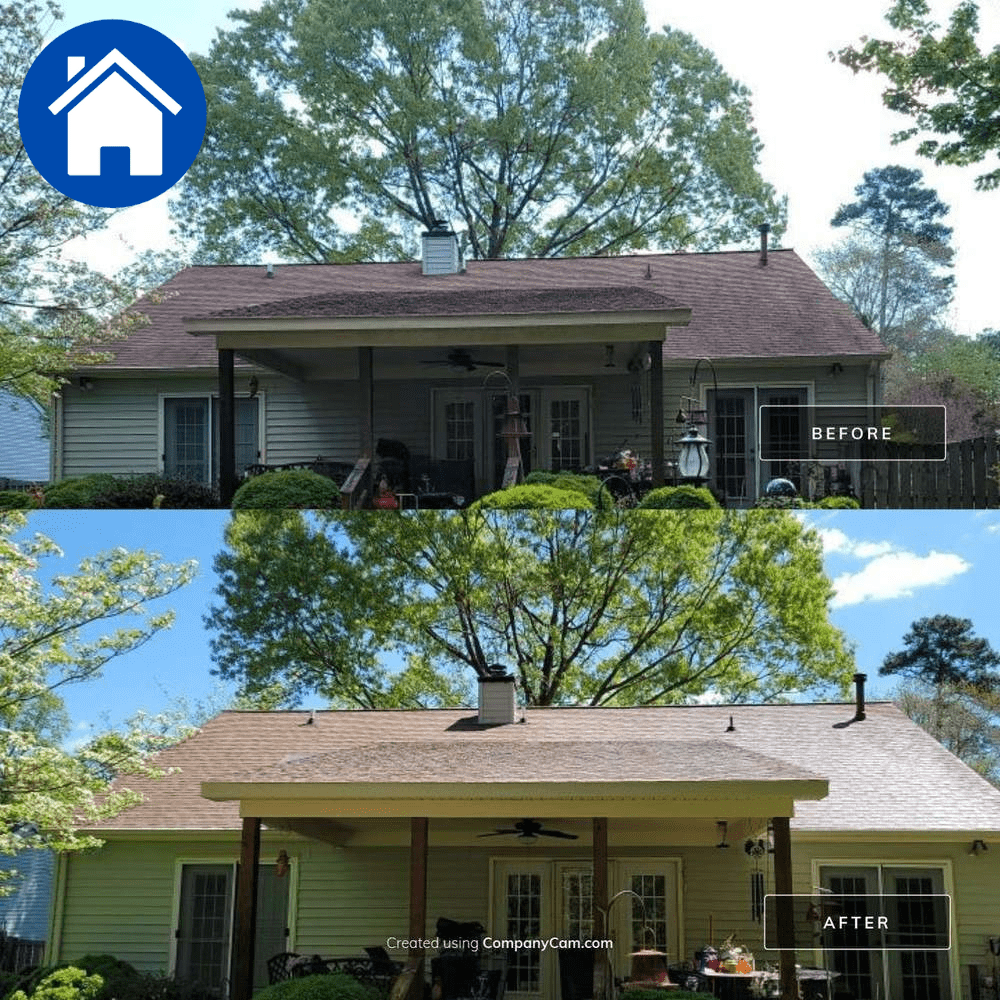 Our Safe Soft Wash Cleaning Method
This technique is an alternative cleaning method to power washing. It uses gentle water pressure and eco-friendly cleaning solutions to wash more delicate exterior surfaces on your property.
Have you ever had the unfortunate experience of accidentally machine washing a garment that was supposed to be dry-cleaned only? Did your clothing shrink a couple of sizes? Did its shape get distorted? Either way, it was probably completely ruined and unusable after that.
Some materials of your home are a lot like delicate clothing. Imagine your siding with a tag on it that says, "SOFT WASH ONLY!" If you were to take a pressure washer to it instead, you could cause permanent damage and take years off its life. And replacing siding is much more expensive than replacing your clothes!
100% Customer Satisfaction Guarantee!
Increases Curb Appeal
High-Quality Services
Improves Life Expectancy of Your Home
Excellent Customer Service
Call For a Free Quote on Any of Our Services!
(757) 207-3737
Benefits of Soft Washing in Chesapeake, Virginia
Why is this method so vital to getting your home thoroughly cleaned?
Environmentally Friendly
The solutions used are environmentally friendly. So you don't have to worry about this method hurting your plants or damaging your landscaping.
Less Risk of Damage
Conventional methods could damage delicate surfaces like roofs and siding because they don't have the strength to withstand the full force of a pressure washer. This method is much gentler, using about the same strength as a garden hose.
Deep Clean
Will this technique result in a thorough clean? Definitely! The solution used attacks algae, mold, and other unwanted debris at their roots. So you don't have to worry about regrowth a week later!
How to Find the Right Company For Your Needs
Does your home need a little TLC? Then you'll need to hire a company that can address your needs. What should you look for?
Hire a company with lots of experience
Read reviews from past clients who've used their services
Make sure they handle the type of cleaning that you want done
Chesapeake Brothers is a full-service power washing company with a team of professionals dedicated to making your property cleaner than you could have ever imagined it! Check out some of our five-star reviews on Google. And give us a call today for a FREE estimate! We look forward to making your property shine!
Areas We Serve
Chesapeake
Portsmouth
Norfolk
Virginia Beach
Suffolk
And More!
What Do We Clean?
Roof
Concrete
Siding
Driveways
Walkways
Fences
Decks
Commercial Property
Soft Washing
Power Washing
And More!
Call For a Free Quote on Any of Our Services!
(757) 207-3737
Home »