100% Customer Satisfaction Guarantee!
Increases Curb Appeal
High-Quality Services
Improves Life Expectancy of Your Home
Excellent Customer Service
Call For a Free Quote on Any of Our Services!
(757) 207-3737
Our Safe Soft Wash Method
We know the power of the soft wash method. This technique uses low PSI and gentle, environmentally safe solutions to get your building, home, or other property looking brand new again.
Less experienced companies use the full might of their pressure washer, thinking that this is the most thorough way to clean a surface. But really, that will just lead to deteriorating shingles, damaged siding, and a whole lot of expensive repairs. The team at Chesapeake Brothers Power Washing would never do that to your home or business. We respect you and your property and we have the know-how to do the job right the first time.
What Do We Clean?
Roof
Concrete
Siding
Driveways
Walkways
Fences
Decks
Gutters
Commercial Property
Exterior House Wash
And More!
Areas We Serve
Chesapeake
Portsmouth
Norfolk
Virginia Beach
Suffolk
And More!
Top-Rated Exterior House Washing Chesapeake, VA
Cleaning Decks

Preparation is important with any power cleaning job, but it's even more essential when you're cleaning decks. Rushing through the prep work will often result in a botched job. That's why our team is thorough and patient when prepping wood decks for cleaning.

First, we figure out if there is a sealer on the deck right now. If there is, you have to spend the time removing it before you can go any farther. If there hasn't been a sealer put on it within the last five years, then all you have to do is give it a good scrub down.

To save yourself the time, effort, and care it takes to clean your deck, give Chesapeake Brothers Power Washing a call. Over the years we've visited many homes in the community and worked with various types of decks. We'd love to clean your deck and restore it to its former glory!
The Importance of Driveway Maintenance

Over the years, your driveway takes quite a beating. It bears up against vehicle and foot traffic, car oil contamination, and even extreme weather conditions. Your driveway is hearty and strong, but even the sturdiest concrete will eventually fade, crack, and buckle from normal wear and tear. So what can you do about it?

One way to maintain your driveway and make sure your asphalt lasts as long as possible is by regularly cleaning it. Our driveway power wash method will clear away contaminants and leave you with a beautiful surface. Is it time to refresh your driveway? Give us a call today! We'd love to help.
Cleaning Commercial Properties

You work hard on your business! And we want to help it grow. How can we do that? The cleanliness of your building is one of the first impressions you make on potential customers. You can make the most of that first impression by hiring a professional pressure cleaning company to help!

What aspects of your commercial property need TLC? What do you do to maintain the inside of your building? You probably dust ceiling fans, window sills, countertops, and desks. You vacuum and mop your floors. And you probably take a good window cleaner to all your interior windows and mirrors. Basically, you clean every surface of your interior building. That's what we do on the outside!

We wash your roof, walls, exterior windows, clean out your gutters, and more! But it's not just the building itself we care for. We can also clean your parking lot, walkways, sidewalks, concrete patios, and wood decks! As the premier power cleaning company, we leave no exterior surface untouched.
Expert Roof Maintenance in Chesapeake
Why choose Chesapeake Brothers Brothers Pressure Washing? We have all the necessary tools to do this job safely and completely. Plus, your roof will look fantastic when we're done! Need a few more reasons? Learn more about our roof cleaning services below!
Roof Stains
What are those black stains and streaks marring your shingles? Those unfortunate stains are due to mold growth. In years past people would simply replace this portion of the roof to get rid of it. But we have a much less expensive solution.
Soft Washing
We use low-pressure water and environmentally friendly chemicals to wash your roof. This technique will get rid of every last bit of mold until it's completely gone without doing any damage to your shingles.
Safety First!
So why not do it yourself? Cleaning your roof without the appropriate safety gear is dangerous! Many homeowners have fallen and gotten injured while working off a ladder or on their roof. And having to purchase the harnesses and other safety gear can get expensive.
What's On My Roof?
At Chesapeake Brothers Pressure Washing, we can take care of any damaging and unpleasant elements on your roof with our professional roof washing service! Give us a call today to get a free quote! We can remove…
Algae
Mold
Stains
Discoloration
Dust
Pollen
Pollution
Tree Sap
And More!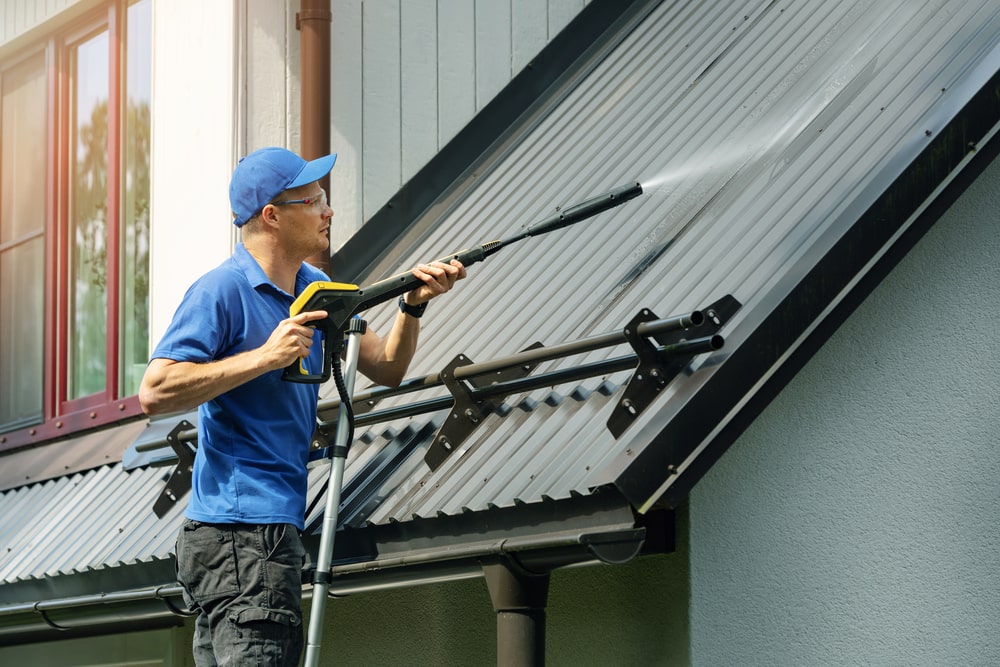 Call For a Free Quote on Any of Our Pressure Washing Services!
(757) 207-3737
Local Power Washing Business Chesapeake, Virginia
We love pressure washing Chesapeake, Virginia homes and commercial buildings! Why? Because this is our community and we love making it look good. So give us a call. You're going to love the way your property looks!
Chesapeake Brothers Power Washing
634 Sedgefield Ct
Chesapeake, VA 23322
757-207-3737
www.chesapeakebrotherspressurewashing.com
Call For a Free Quote on Any of Our Pressure Washing Services!
(757) 207-3737
Things to Do in Chesapeake Virginia