Why is keeping your gutters clear so important? Because they are designed to carry water away from your home or commercial building and protect it from the elements. When they become clogged, they can cause structural damage – even leading to flooding! Chesapeake Brothers is proud to provide the best gutter cleaning in Chesapeake, VA. Call us today!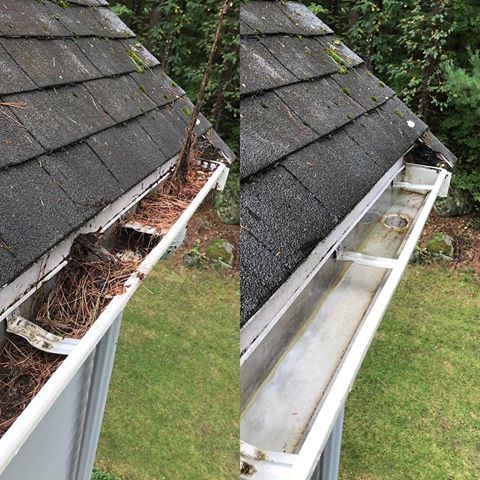 100% Customer Satisfaction Guarantee!
Increases Curb Appeal
High-Quality Services
Improves Life Expectancy of Your Home
Excellent Customer Service
Call For a Free Quote on Any of Our Services!
(757) 207-3737
The Danger of Clogged Gutters in Chesapeake, Virginia
Many people neglect their gutters and let them fill up with leaves, sticks, and other debris. So what's the big deal? Find out below!
Mold & Mildew
Water will pool up and leak into your house, causing mold and mildew growth in your siding, basement, and more. This can be a health hazard for you and your family
Damaged Foundation
Without a healthy and clear water system, water will pour down the side of your house and saturate the ground, contributing to structural problems and foundation settling.
Birds and Rodents
Lastly, clogged gutters will attract birds and rodents that can chew on the underside of your roof or create nests (and droppings) in or around your home.
Why Hire a Professional?
The best way to get around this issue is by getting regular gutter cleaning by a professional company like ours. Here is our process for protecting your gutter system. First, we'll do an inspection, looking for any clogs or damage. Next, we'll clear them out so they drain properly. This includes clearing out existing critter nests. And throughout the process, we'll be checking for any signs of leaks or other problems that need attention.
The benefit of hiring a professional is that you don't have to do such a dirty job yourself. Plus, this type of work often involves working on ladders or even on top of a roof. It's much better to hire an experienced contractor than risk your safety! And, of course, our knowledge of the industry helps us know when something is "not quite right" with your gutter system. We catch problems early so they don't become major repairs later.
Are you ready to get your gutters cleaned? Give us a call today!
Areas We Serve
Chesapeake
Portsmouth
Norfolk
Virginia Beach
Suffolk
And More!
What Do We Clean?
Concrete
Siding
Driveways
Walkways
Gutter Cleaning
Decks
Commercial Property
Soft Washing
Power Washing
And More!
Call For a Free Quote on Any of Our Services!
(757) 207-3737
Home »