A deck is an important component of the exterior of your home. It not only provides a great place to hang out with friends and family, but it also protects your home from the elements. However, over time dirt and grime will accumulate on your porch that can eventually lead to decay and other damage that can compromise its integrity. A good way to avoid this is by having it power washed regularly by Chesapeake Brothers Power Washing Services. Do you need deck cleaning in Chesapeake, VA? Give us a call today.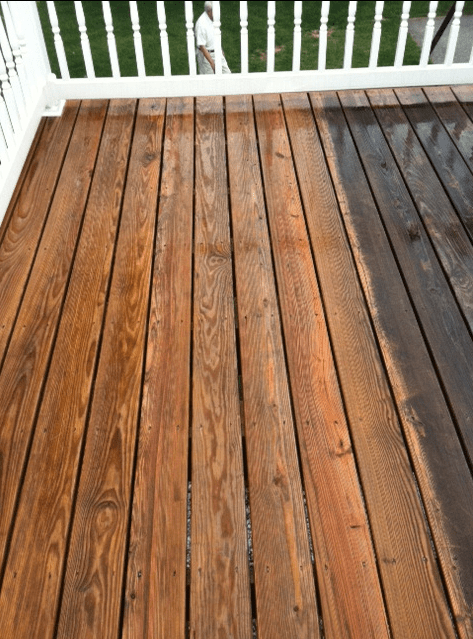 100% Customer Satisfaction Guarantee!
Increases Curb Appeal
High-Quality Services
Improves Life Expectancy of Your Home
Excellent Customer Service
Call For a Free Quote on Any of Our Services!
(757) 207-3737
Benefits of Deck Washing in Chesapeake, Virginia
A porch can be a great place to enjoy the sunshine, but it can also act as an entry point for mold and mildew. How can deck cleaning benefit you? Find out below.
Remove Mold & Mildew
Mold and mildew are not only unsightly, but they are also harmful to your health and can cause allergies and respiratory problems. The good news is that by having it power washed on a regular basis you will eliminate the need for expensive repairs or replacements.
Looks Like New
We can make your wood surface look new again. This service will reveal its natural color and remove any discoloring, making it look great for years to come.
Save Money
You can also save money by avoiding the need for expensive repairs. This service will even help to extend the life of your porch which dramatically reduces the risk of decay and other damage.
Our Soft Wash Cleaning Process
We will remove dirt and grime from your surface with just the right amount of pressure to avoid damaging its integrity. We then rinse off the remaining residue using clean water. We always use appropriate eco-friendly solutions in our cleaning efforts and we'll protect your property from corrosion with a hearty staining solution. It is then left to dry in the open air for a day or two until it is ready for use again.
So your sipping lemonade on your beautiful porch. Your family is visiting and they're enjoying the outdoor area with you. Someone turns to you and asks if you got a new porch. But you didn't have to. Because our services made your wood surface look brand new again! Can you picture it?
If you're ready to restore and revamp your outdoor space, give us a call today!
Why Choose Us?
We have years of experience in this industry and we will ensure that your wood surface is restored to its original glory. We always use the proper techniques and materials needed to get the job done right the first time. You can count on us!
Areas We Serve
Chesapeake
Portsmouth
Norfolk
Virginia Beach
Suffolk
And More!
What Do We Clean?
Concrete
Siding
Driveways
Walkways
Gutter Cleaning
Decks
Commercial Property
Soft Washing
Power Washing
And More!
Call For a Free Quote on Any of Our Services!
(757) 207-3737
Home »